Shiba Inu (Shib) is an Ethereum-based meme altcoin created in August 2020 featuring the Japanese breed of hunting dog. It is considered to be an alternative to Dogecoin, another popular meme asset that is suggested to be linked to Elon Musk. Shiba Inu was launched by anonymous founder Ryoshi who views this token as a fully community-driven asset. Since Shiba is built on Ethereum, unlike Dogecoin, it can run smart contracts. In July 2021, the project launched its own decentralized cryptocurrency exchange ShibaSwap.
The Shiba Inu ecosystem encompasses three tokens: Shiba Inu (Shib), Leash (LEASH), and Bone (BONE).
Characteristics, according to CoinGecko
Price (24 June 2022): $0.00001087
All-time high: $0.00008616
Market cap: $6.3B
Circulating supply: 589T
Total supply: 999.9T
Shib is traded on:
Binance
Hotbit
WhiteBit
Hoo.com
AAX
There are close to 200 pairs with Shib on dozens of popular crypto exchanges.
Total supply details
The total supply of Shiba Inu is much greater compared to other cryptocurrencies with similar market capitalization. Half of the minted Shib were locked in Uniswap to be used for rewarding liquidity providers in Shiba pools on the DEX. The other half, 500T Shib, were transferred directly to Ethereum Founder Vitalik Buterin. Buterin sent 20% of the received assets ($1B) to two charitable organizations. The gift made by Buterin has had a huge positive impact on the legitimacy of Shiba Inu. The 90% of the remaining tokens were transferred by Vitalik to an inaccessible wallet, we can call this transaction "burning" since this supply was permanently removed from circulation. 
Competitive advantages
Since Shiba is built on top of Ethereum, it can benefit from smart contracts to create more advanced applications including DEXes and NFTs. Smart contracts allow users of Shiba Inu to lend and stake their tokens to get passive income. Also, due to its high popularity and even hype, it is accepted as a payment method by close to 600 businesses.
Risks
Shiba Inu is not backed by any real assets or underlying technology. Thus, it is a high-risk investment that may be characterized by a high level of volatility. Also, the team behind Shiba Inu is anonymous. Although anonymity is one of the main characteristics of crypto, when project core team members are anonymous, then there is no one responsible for what is going on. Since Elon Musk is a driving force in the meme segment of crypto, his tweets may have either a positive or devastating impact on the performance of meme tokens. Thus, the mood and intentions of Elon Musk may have a bigger impact on Shib's price than the token's functionality and key features.
Security analysis
According to CER.live, there are 4 basic security standards to be followed by crypto projects: token audit, platform audit, bug bounty, and insurance.
Shiba Inu basic security characteristics:
Token audit (No)
Platform audit (Yes, Certik)
Bug bounty (No)
Insurance (No)
During the platform audit of ShibaSwap, security specialists found 8 major and 1 medium-severity vulnerabilities. All of them were resolved by the Shiba Inu team. Also, 25 minor and informational flaws were detected (only 1 is partially resolved, all others – addressed).
Audit coverage: 100%, meaning that all related systems have been assessed by an auditor in terms of security.
Since its launch, Shiba Inu has not been involved in any hack cases.
Shiba Inu has the CC security rating (ranked 298 out of >1,500 top cryptocurrencies covered by CER.live).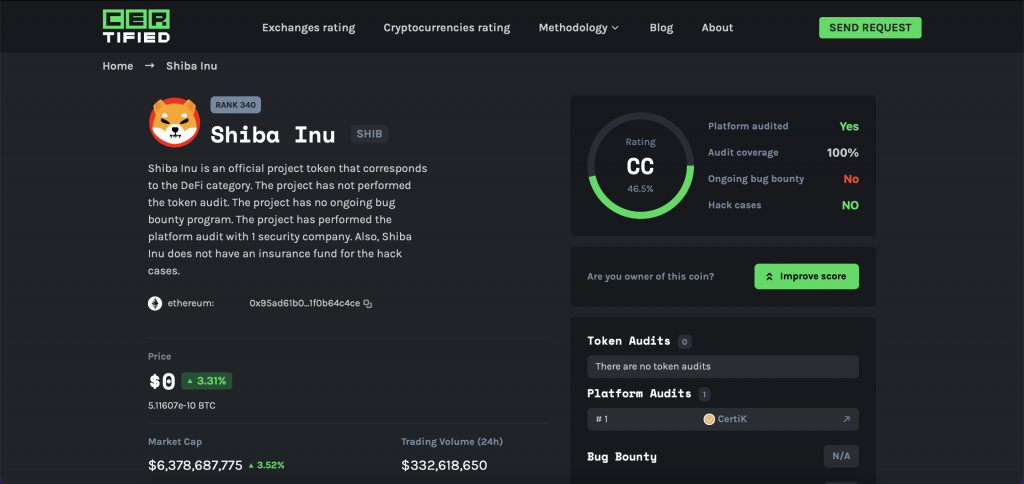 Conclusion
Shiba Inu is a great example of a meme asset with no embedded value. However, it allows users to make money on price fluctuations and it can be used for asset transfer purposes. Shiba Inu does not pay enough attention to security suggesting that security is not a top priority for this project, however, this statement may be attributable to all other meme tokens (coins).