Kraken is one of the world's biggest and most popular crypto exchanges. In this article, we want to review the platform and assess its security level. Is Kraken secure? Let's find out.
About Kraken
Trading volume and users
The US-based exchange was established in 2011. With a daily volume of $700 million, Kraken is the 9th largest CEX in the world. Kraken's website has around 10 million monthly visits, which puts it on par with PancakeSwap, OKX, and Coinbase Exchange. On May 12, 2022, Kraken reached its peak 24h trade volume of $4.1 billion. For the past year, trade volumes have stayed relatively the same. The quarterly trading volume is $207 billion. More than nine million clients use Kraken. The service is supported in 190 countries. 
Product Mix
Users can buy and sell 188 coins. In total, 598 pairs are available for trade in the spot market. The most popular are BTC/USD (22%), USDT/USD (15%), USDT/EUR (11%), BTC/EUR (10.4%), and ETH/USD(9.8%), and ETH/EUR (6.4%). The share of USD in total volume is 59.7%, and EUR makes up 33.2%. There are 55 pairs of derivatives, including perpetual swaps and futures, with a maximum leverage of 50x for five pairs. The most popular pair of derivatives is XBTUSD.
Available on mobile and desktop, Kraken is free of charge. Users only have to pay 0%-0.26% in transaction fees. For seasoned traders, the exchange has a pro account, which grants access to lower spreads, deeper liquidity, and higher rate limits.
How secure is Kraken?
Kraken is one of the most secure crypto exchanges with a triple-A rating and max score from CER. CER's cybersecurity ranking of top crypto exchanges is based on a comprehensive methodology that accounts for more than 20 indicators, including server and user security, penetration test, bug bounty, and funds insurance. 
In terms of server security, Kraken has an A+ SSL/TSL certificate. The exchange utilizes powerful WAF and CDN capabilities. Its SPF records are published and secured. Only 80 and 443 ports are open. HTTP headers follow industry standards. Kraken's website is not present in a spam database. When it comes to user security, accounts are protected by 2-factor authentication and rigid password requirements. Regarding device management, the app shows a list of current sessions and can terminate sessions on other devices. Users can safelist their withdrawal address. Moreover, Kraken has ISO/IEC 27001 certification, meaning it adheres to the international standard of information security. For the past two years, Kraken has successfully fought off all cyberattacks.
Three stars in Kraken's CERtified badge means that the platform has met all criteria in a penetration test, bug bounty, and proof of funds. In the penetration test, certified security experts imitated real-world cyberattacks to identify critical internal and external vulnerabilities of the crypto exchange. Proof of funds confirms that Kraken is not involved in any forms of financial manipulations or fraudulent activities. Finally, Kraken is the only major exchange with a self-hosted bug bounty program that was later reviewed by a​​ reputable third-party auditor.
Kraken also has 10 of 10 in Trust Score by Coingecko. It is worth mentioning that Kraken's team is public, which adds credibility. 
Financial Stability
Kraken has the second-highest solvency with funds insurance and $1.2 billion in total balance ($1.12 billion in BTC and $83.88 million in ETH). Many crypto exchanges have started prohibiting and limiting withdrawals. With this in mind, high solvency becomes a vital predictor of the uninterrupted operations of an exchange.
Security comparison with other exchanges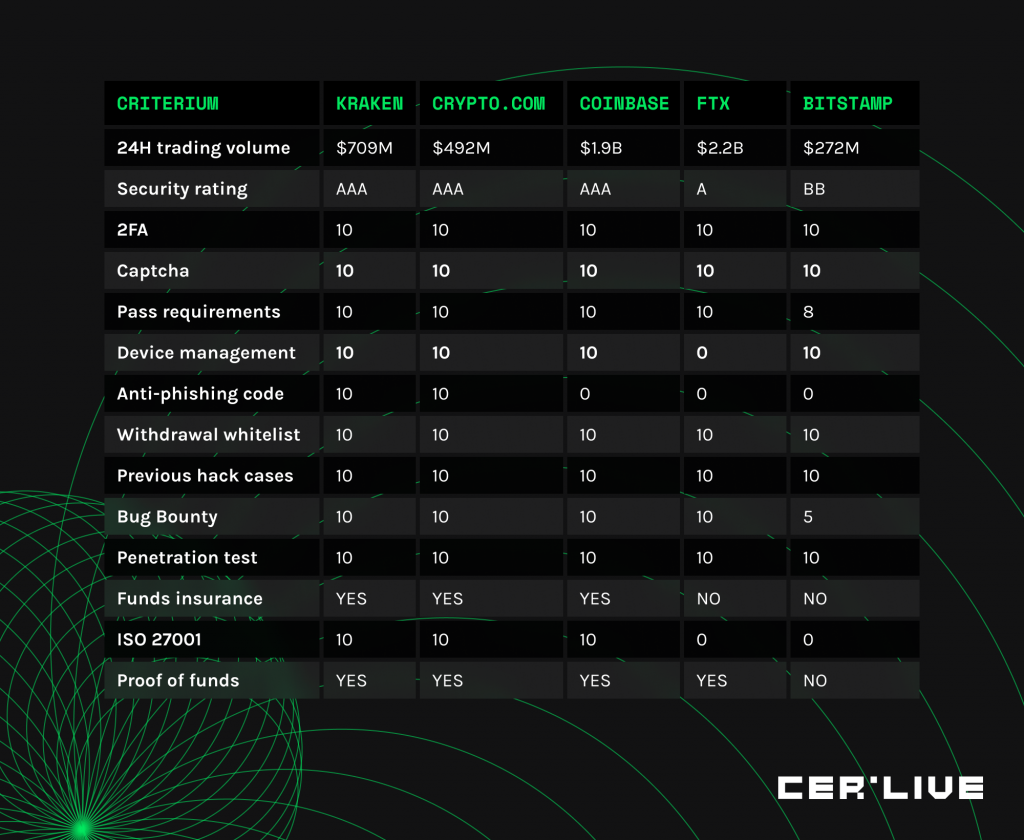 Exceptional security measures and systems justify the high ranking of Kraken. The comparison above demonstrates that Kraken's security is on the same level as Crypto.com and Coinbase. The exchange has received the most points in every category of CER's methodology. The most important task for Kraken is to maintain its robust security and protect users from any possible hacks and exploits.
With triple-A security ranking from CER, Kraken is among the very best crypto exchanges in the world. The company's financial stability is noteworthy. Probably because of this perfect duo of security and solvency, so many users choose Kraken for crypto trading and staking.