Coinbase is one of the most popular crypto exchanges worldwide. It's a place for buying and selling digital currencies with a sleek-looking UI. Coinbase positions itself as the easiest place to buy and sell cryptocurrency. But is Coinbase secure? Let's find out.
Trading volume and users
The US-based exchange was established in 2012. With an average daily volume of $1.5 billion, Coinbase stands firmly in the top 5 largest exchanges in the world. Coinbase's website has around 6.5 million monthly visits. On Oct 28, 2021, the CEX reached its yearly peak 24h trade volume of $13.3 billion. For the past year, daily trade volumes typically ranged between $600million and $3 billion.
Product Mix
Trading on the spot market is the main offering of Coinbase. Users can buy and sell 219 coins. In total, 533 pairs are available for trade in the spot market. For the past two months, Coinbase added 8 new coins to its mix. The most popular pairs are BTC/USD, ETH/USD, and USDT/USD. In addition to conventional Bitcoin, Ethereum, and Tether, Coinbase has historically had high trading volumes for Solana, Cosmos Hub, ApeCoin, Chainlink, Cardano, Polygon, and Shiba.
The exchange offers recurring buys (automatic recurrent investment in cryptocurrency) and vault protection (time-delayed withdrawals for added security). In addition to the website, Coinbase is available on Android and iOS. There is a Pro account for seasoned investors. Coinbase is free of charge. TX fees are up to 0.3%, in addition to deposit fees.
How secure is Coinbase?
10/10 in Trust Score by CoinGecko
10/10 in Cybersecurity Score by CER
Coinbase is exceptionally secure, with a triple-A rating and max score from CER. Based on CER's comprehensive methodology of 20 indicators, Coinbase is among the top10 most secure crypto exchanges. Three Ticks in CERtified badge means max scores in a bug bounty, pentest, and proof of funds.
Bug Bounty
Bug bounty program is a way to receive reports on security flaws from hackers and independent security researchers before cybercriminals can exploit those vulnerabilities. Coinbase has an active bug bounty at HackerOne with $880,256 in total bounties paid and 610 bug reports resolved. For the past two months, there were 13 new bug reports. Lately, the number and security of found bugs decreased, as evidenced by $6,700 paid in new bounties for the past 90 days.
Penetration Test
In penetration testing, professional security experts imitate real-world cyberattacks on the systems to identify critical internal and external vulnerabilities of the crypto exchange. Coinbase received 10/10 for a penetration test from CER with a 100% scope coverage conducted less than a year ago.
Proof of Funds
A Tick in proof of funds confirms that Coinbase is not involved in any forms of financial manipulations or fraudulent activities. Coinbase has good solvency with funds insurance. Coinbase management takes the issue of solvency quite seriously. The company laid off 18% of its workforce at the beginning of crypto winter to cut its expenses. There were some concerns about Coinbase going bankrupt a few months ago, but Coinbase leaders have steered clear of any danger.
On top of that, CER gave Coinbase max scores for Server Security, User Security, Device Management, and Compliance with ISO/IEC 27001 certification from CER.live. Moreover, there haven't been any major incidents with Coinbase for the past two years. We also have public profiles of senior team members, which adds credibility to the exchange.
Security comparison with other exchanges (Sep 20, 2022)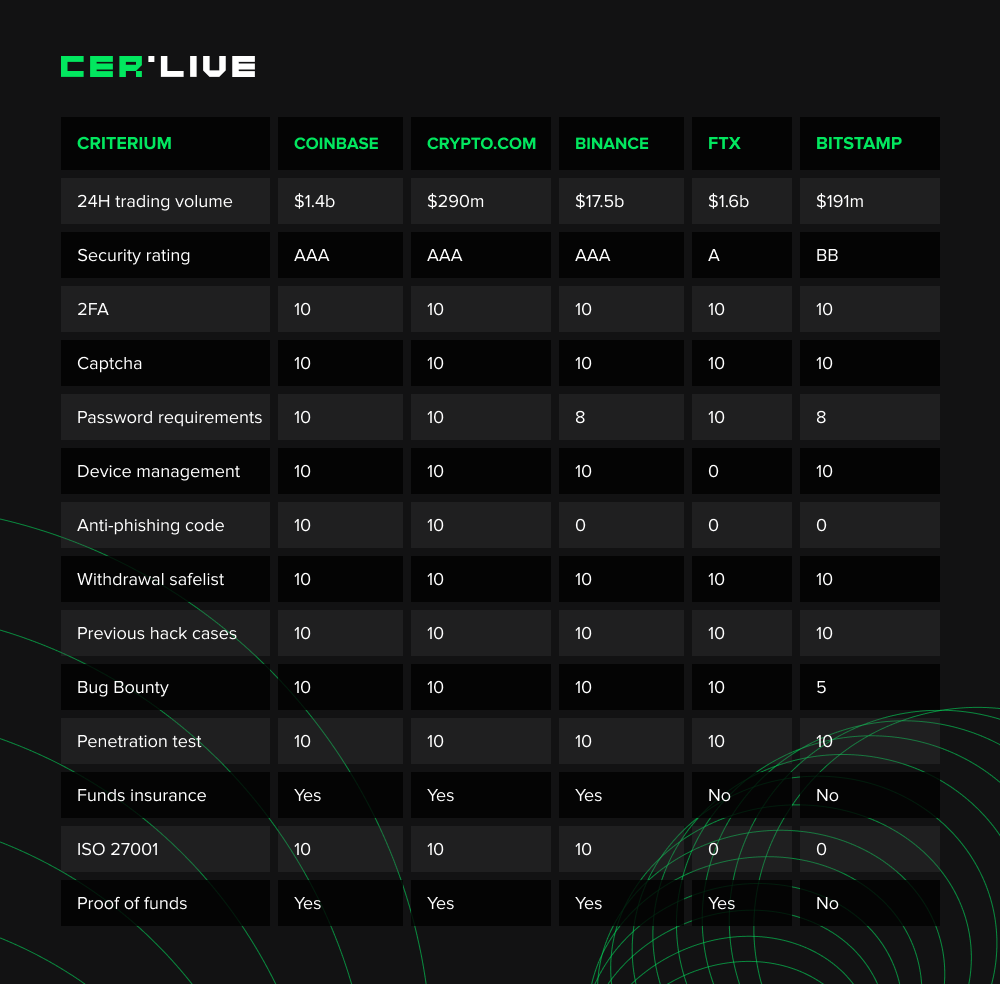 With an active and successful bug bounty, penetration testing, and billions in total funds, Coinbase is rightfully one of the most secure centralized exchanges. The Vault Protection feature is a helpful preventive security measure for the user's side. Coinbase should maintain its exceptional security and think about security from different angles.